Coach Robert Hailey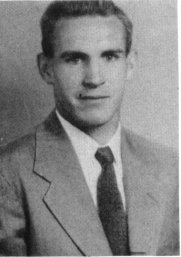 Robert Lynn "Bob" Hailey
Robert Lynn Hailey, age 79, went home to be with his Lord in Lawrence Kansas, on Sunday, July 13, 2008. Visitation will be held at the Fossett – Mosher Funeral Home on Wednesday, July 16, 2008 at 10 – 11a.m., service at 11 a.m. followed by the graveside services conducted at the IOOF Cemetery, Mt. Vernon, Missouri, A memorial service will be held November 8, 2008, from 10 to 11 at the Indian Lodge, Touch of Nature, Carbondale, Illinois.
Robert was born May 9, 1929, in Lawrence County, Missouri, to Fred and Marie Boucher Hailey. "Bob" moved into Mt. Vernon at age 6. He attended the University of Missouri and was a part of the football team during the 1947-1950 seasons. Upon graduation Bob began investing in the lives of students as a coach and teacher. Bob coached football in Odessa, Liberty, and Carthage, Missouri, Kansas State University, Raytown South High, Raytown, Missouri, and Southern Illinois University. After retiring as a coach at SIU, Bob stayed on in the Health Education Department and assisted in the football programs at some surrounding schools. Bob was an active member and deacon at Walnut Street Baptist Church in Carbondale until his heart attack in 2003.
Robert was preceded in death by his parents. Survivors include his wife of 57 years, Betty, sons: Russell Hailey and wife, Diane, of Lawrence, KS, Mark Hailey and wife, Pat, of Baxley, GA, daughters: Nancy Zinkgraf and husband, Fred, of New Braunfels, TX, and Susan Knauf and husband, Preston, of Winter Haven, FL, and sister, Betty Shine, and husband, Jack of Newton Grove, N.C., 14 grandchildren and 13 great-grandchildren. We will all miss his strong hands, "tickles", words of encouragement, playing games, and fishing adventures.
In lieu of flowers, memorials may be made to your local Fellowship of Christian Athletes or Red Cross chapters or to the Southern Baptist International Mission Board.
He Will Be Missed