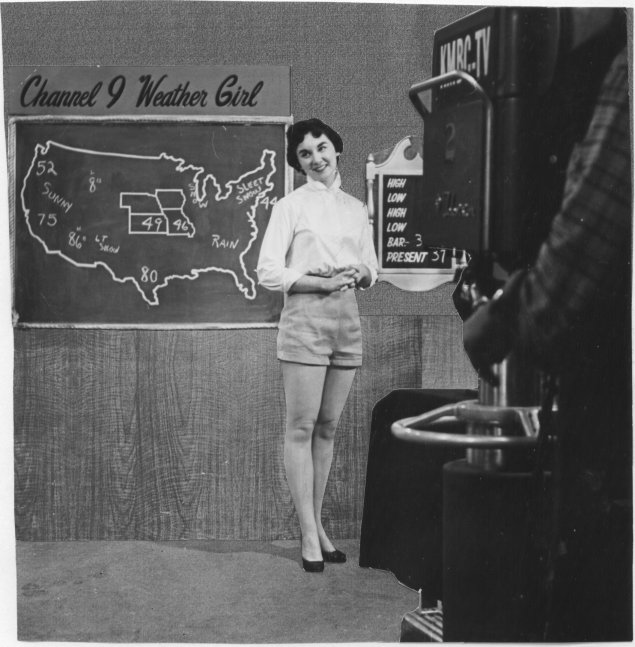 From The Weathergirl to
"Clear Blue Tuesday"
Dear Friends,
Apologies to those with whom I've failed to keep in touch but I want to share my news with all in the best way possible--the internet. I'm moving September 15 from New York to San Francisco to live in a wonderful house my daughters Jamie and Amy have bought which is just over the hill from where they live. It's a bittersweet time. After 11 years, I'll move away from my loves here, son Frank and his family plus all my dear friends, but to my loves in San Francisco, where I'll be the Lady of the Manor (I've already been titled by friends there).
A graduate of the Class of 1953, I may not be remembered by name, Janice O'Dell, but mention "Channel 9 Weathergirl" and it will ring a bell for many of you. I sang professionally, appeared at Kansas City Rep and Resident Theater shows before going off to New York for a role in a Broadway show. Marriage to Jim Lantz, local broadcaster, and raising a daughter and a son followed. As did a career in Public Broadcasting, first on KCUR-FM in Kansas City (and numerous times on NPR) then with the Corporation for Public Broadcasting.
Theater and singing always was a part of my life. You can see me in "Can't Buy Me Love" with Patrick Dempsey, "Stranger in my House" with Veronica Hamel and "Family Plan" with Leslie Nielsen. I moved to New York on retirement 11 years ago to be near my son and his family and since have many NY Theater, TV commercials and print modeling credits.

I was unfortunate enough to live next to the World Trade Center on 9/11/2001. I was leaving my building, a block away from the site, when the South Tower collapsed. Hit by falling debris, I ended up with traumatic brain injury plus general bodily injuries and years of recovery.
Two years ago, I was introduced to a director who was casting an independent pop-rock musical film with its starting-off point as 9/11. It follows the impact of that event on 11 New Yorkers over the next 5 years. It was a terrific experience. Now I can say it has made a terrific movie and we're ready for a full roll-out beginning with a premier here in New York on Sept. 10.
In "Clear Blue Tuesday", I play a woman injured on 9/11 (based on but not my true story). We don't have a distribution deal, yet, but we're going to do it ourselves via the aforementioned internet plus other avenues. I saw the most recent cut and I think it's a great little film, one that could be a sleeper. It's an Indie pop-rock musical created by the director and cast, me plus 10 other astonishingly talented New York singer/songwriter/actors, many from Broadway. Along with the premier on 9/10, we're working on a week's run here and a week's run in LA before year's end and we'll try and get it to movie houses all over the country. It also will be available on DVD and the soundtrack on CD.
I hope you'll go to the website http://www.clearbluetuesday.com and sign up for the newsletter and ask everyone on all your mailing lists to follow suit. You can also go to the Facebook page for Clear Blue Tuesday. Sign up as a fan. Spread the word. We don't have the main trailer up yet or all the individual bios but they are coming so keep going back. Any other way you can help such as getting me contacts for publicity in Liberty, Kansas City, Tucson, LA, or contacts for movie houses in those cities or any people who might be able to help promote it, would be most, most, most welcome. Let me know if you need any more info or want to give feedback. I'd love to hear from you.
This is an exciting ending for my professional life as well as my 9/11 era and I'm so proud of the film and my role in it.
Thanks, Jan
July 17, 2009