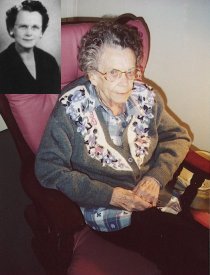 1903 - 2006
Irene Froman LaFrenz, 102, died at Hawthorne Inn in Danville, IL, on Thursday, February 9, 2006.
Visitation will be at 10 AM and funeral service at 11 AM on Tuesday, February 14 at Second Baptist Church in Liberty, MO. Dr. Stephen Graham of Second Baptist Church will officiate. Private burial will be at New Hope Cemetery in Liberty.
Irene Froman was born on March 19, 1903, in a farmhouse near Liberty, the daughter of Marshall Froman and Martha Bell Froman. She was one of the first female graduates of William Jewell College, then taught math for nearly 30 years at Liberty High School. She was married for nearly 60 years to Daniel Vern LaFrenz, graduate of and professor of math at William Jewell. They had one daughter, Martha (Robert) Kay of Danville; two granddaughters, Nancy (Don) York of Louisville, KY, and Sara Youhas of Oakwood; and six great-grandchildren.
Irene LaFrenz was a member of the Fidelis Class at Second Baptist Church in Liberty, MO. Also she belonged to the Fortnightly Club, American Association of University Women, Delta Kappa Gamma, and Daughters of the American Revolution. She loved her family, her church, her garden, good books, and the TV show Jeopardy. She was famous at Second Baptist Church for her raspberry pies.
In lieu of flowers, memorials may be made to Second Baptist Church, 309 E. Franklin, Liberty, MO. 64068